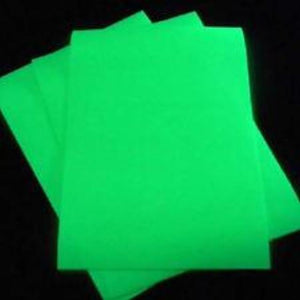 Glow In The Dark 10 Hour
The name says it all.  Our glow in the dark film lights up the night with an awesome green glow for hours.  
It's great for a cool effect on a craft or for marking anything you want visible once the lights go out.
When charged this film will glow for well over 10 hours.
Adhesive: Permanent
Finish (Daytime): Matte
*Please note that this is a thick acrylic film.  This film does not conform well to curves.  
**Please check our Installation & Care recommendation page if you have any specific questions about those topics.
On the fence about this Glow In The Dark 10 Hour? Don't be. Let our satisfaction guarantee address your concerns.

Inventory Last Updated: Sep 27, 2023